About Us
Committee Chairs

Science Policy Committee
Amy Abernethy, M.D.
Chair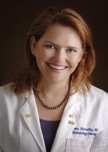 Amy P. Abernethy, MD is Associate Professor of Medicine, Duke University School of Medicine; Director of the Duke Cancer Care Research Program; Senior Fellow with the Duke Center for Clinical Health Policy Research; faculty in the Duke Clinical Research Institute; and, an active clinician in both outpatient and inpatient oncology. Dr. Abernethy was also recently appointed to the National Cancer Policy Forum with the Institute of Medicine.
A NIH and AHRQ funded investigator with a substantial portfolio focused on comparative effectiveness research (CER) and patient reported outcomes in cancer, Dr. Abernethy founded and directs the Duke Cancer Care Research Program (DCCRP). DCCRP is developing a new model of combined clinical/research inquiry in oncology, and IT-based methods to support it, in order to facilitate personalized CER. This model, the "rapid learning cancer clinic," uses electronic patient-reported outcomes as the foundation for a real-time linked data system designed to facilitate evidence-based, individualized care as an integral component of routine cancer care in the 21st century. Approaches fundamentally rely on principles of data interoperability and sharing, and Dr. Abernethy is leading Duke's efforts to create a transferable model of a learning healthcare system.
Public Policy Committee
J. Brian Munroe
Chair

Brian Munroe is the founder and the immediate Past-President of the Personalized Medicine Coalition (PMC). He currently serves as the Chairman of the PMC Public Policy Committee and on the Executive Committee of the PMC Board of Directors.
Brian is a twenty year veteran of health care public policy, advocacy, and communications. His areas of expertise are in FDA legislation and regulations, Medicare and Medicaid reimbursement, federal and state tax policy, and the development of government policies to advance personalized medicine.
Brian has created successful, stand alone Government Affairs Departments from scratch at: SmithKline Beecham, Millennium Pharmaceuticals, and Endo Pharmaceuticals. He is currently the Vice-President in charge of Washington office, the Public Policy group, State Government Relations and, the Political Action Committee at Endo. He also serves on Endo's Executive Operations Committee.
Brian's breadth in health care policy stretch across pharma /biotech, home health care, diagnostics, medical devices, clinical laboratories, and health care payors. His geographical responsibilities have included the fifty states, the Federal government and Congress, and for a short time the European Union and member countries.
Brian began his career in Washington, D.C. working for United States Senator Alan Cranston (D-CA).
Brian currently lives in the Washington, D.C. area with his wife Vicky and their four children.
Centers for Medicare and Medicaid Services

Coverage, Coding, and Reimbursement Task Force
Scott Allocco and Steve Phillips
Co-Chairs

Scott Allocco is the President and a co-founder of BioMarker Strategies, where he coordinates all fundraising, external relations, strategic partnerships, communications and regulatory affairs for the company. As a member of the Personalized Medicine Coalition (PMC), BIO molecular diagnostics and ADVAMED diagnostics committees, he is actively engaged in efforts to reform FDA and CMS regulatory and reimbursement policies for next generation biomarker tests. Prior to founding BioMarker Strategies, he had 15 years of health care and pharmaceutical industry experience, including focusing on drug coverage and reimbursement issues for commercial and public sector health insurance programs. Most recently, Mr. Allocco was vice president of state government relations for Coventry Health Care, one of the nation's largest health insurance companies. He was also vice president for business development at First Health Services, which he helped build into the nation's largest pharmacy benefits administrator of Medicaid drug-benefit programs.
Prior to joining First Health Services, Allocco was a managing director in the health-care practice group at Hill and Knowlton's Washington, D.C. office. He also served for four years as the director of the Office of Government Affairs for the New Jersey Department of Health and Senior Services under Governor Christine Todd Whitman. He graduated cum laude with a B.A. in public policy from Hamilton College.

Steve Phillips is Director, Health Policy and Reimbursement with Johnson & Johnson' corporate Government Affairs and Policy office. In this role, he provides leadership and guidance in the area of government health policy to all J&J operating companies. Key areas of focus are: changes to the Medicare payment systems for hospitals and physicians, particularly how they impact access to innovative products; and Medicare coverage policy. He has presented to international audiences on the key lessons of the US DRG experience, and also advises J&J companies on international policy issues.
Prior to joining J&J in 2005, Steve had over 18 years of experience at the Centers for Medicare and Medicaid Services, most recently as the chief of physician reimbursement and, prior to that, as chief of Medicare's inpatient hospital DRG system. In these positions he oversaw the development of national policy for these two critical parts of the Medicare program. Steve joined the Federal service through the Presidential Management Intern Program, and completed the Excellence in Government Fellowship Program.
Steve holds a Masters Degree in Public Administration from the University of Georgia, and a Bachelor of Public Affairs from Indiana University.